Description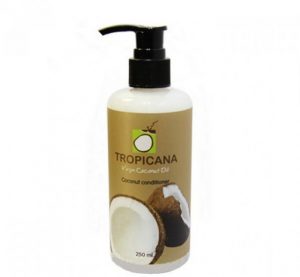 Description
Through a combination of coconut oil, cold pressed, almond oil with extracts of Aloe Vera, ginseng and sunflower seeds prevents hair loss, helps the hair to maintain a healthy look, softness and silkiness. It has a healing effect.
Composition:
The perfect combination of natural ingredients suitable for all types of hair. All components introduce into the balm – conditioner TROPICANA their healing qualities, mutually complementing and enhancing the effect of each other.
Ginseng root extract increases the elasticity of the scalp, increases blood circulation, protects the scalp from dehydration, nourishes it. Prevents dandruff, gives hair elasticity and volume.
Aloe vera extract. High content of essential oils, about 20 amino acids, vitamins B, C, E, beta-carotene, choline, fiber promote healing of small cracks on the scalp, penetrate deeply into the hair roots, nourishing, strengthening and toning them.
Sunflower seed extract normalizes acid-base balance and, in addition, is a storehouse of vitamins (D, A, E) and trace elements (zinc, iodine, iron, fluorine, calcium), which are useful for hair growth and strengthening.
Provitamin B5 thickens the hair body up to 10%, restores its damaged structure, smoothes the surface, nourishes and strengthens the roots. Protects hair from the damaging effects of moisture and wind. Provitamin B5 is distinguished by an amazing property to penetrate the hair shaft, covering it with an elastic film inside and out.
Almond oil nourishes the roots and smoothes the hair scales, prevents their fragility and thinning; adds shine to dull hair. Despite the fact that it is an oil, it is absorbed without a trace and oily luster, but due to its vitamin F content, it prevents the expansion of pores and improves the functioning of the sebaceous glands.
Coconut oil includes triglycerides and saturated fatty acids, thanks to which it is perfectly absorbed into the skin. Capric acid contained in coconut oil stimulates its antimicrobial activity. Coconut oil nourishes depleted, thin hair, protects them from protein loss.
Chemical composition: Aqua, Cetyl alcohol, Glycerin, cocoamide MEA, Behentrimonium choride, vitamin E, lactic acid, Guar hydroxproyltri, omiu, chloride, Disoduim EDTA, Coconut oil, Sweet almond oil, Ginseng extract, Aloe vera extract, Sunflower seed extract.
Mode of application:
Apply with light massaging movements to moist clean hair, paying particular attention to the tips. After a few minutes, rinse with warm water. It has increased efficiency when using shampoo from the same series.