What is your shipping rates?
You can check shipping price by selecting your country in the top right couner of the page or on a checkout page. When you place any item in your cart you will see the shipping price calculated by clicking on the cart image. Note that that price is determined by total weight of the products added to the cart.

Shipping prices varies in following weight ranges (1-299g, 300-499g, 500-999g, 1000-1499g, 1500-1999g, 2000-2999g, 3000-3999g, 4000-9999g). So if you have, for example 1103g of items you will have same shipping price if you add 300g more.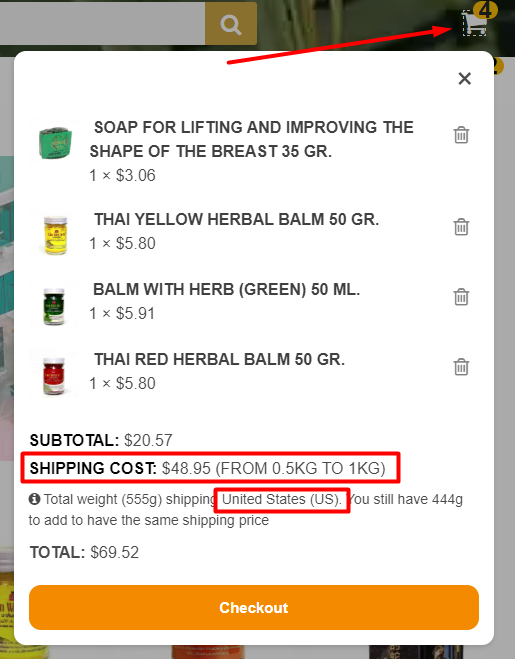 Where is my order?
When your order is shipped we send you a tracking number so you can see current location of your parcel. Also you can check tracking number by yourself visiting specific carries's website:
ThailandPost
DHL
FedEx

Also if your item was shipped by ThailandPost we have a special page where you can check the status of your parcel delivery
Does SiamBazar ships products to India?
Yes, we ship items to India and many other countries all over the world.
Where is shop located?
We are online-only e-commerce store selling items from South-East Asia across the globe.
Why is my order being returned?
Reasons for Orders Being Returned:
– Undeliverable Address
– No one available to receive the package.
– Incorrect address provided to carrier by customer.
– Order refused by the customer
– Refusal to pay customs fees
– Customs refusal of order

If orders are rejected due to customs refusal or due to customers refusing to pay customs duties and fees, customs may dispose of the order and no compensation from SiamBazar will be granted. Once your order is received by us you will receive an email to let you know that a refund has been processed for the returned items.
Refund totals for returns may be different than the original purchase total due to shipping fees and any additional fees incurred to return the products to our fulfilment centers (including return postage, handling, storage, and quarantine fees).

If you still have questions, feel free to contact us.
How shipping costs are calculated?
Delivery services charge by shipping weight (items purchased + wrapping + packaging). Shipping costs varies from country to country. We use fastest and cheapest options available to ship your orders. Primary we use air-mail.
I looking for something specific from Thailand but cannot find on your website. Can you help me?
Yes, we can. Use this product suggestion form. Tell us about a product you've been looking for. As soon as we will add the product to our shop we will notify you by email.
I want to buy 20-50 kg or even more of Thai products. Can you help me?
Yes, we can. We keep in touch with Thai manufacturers that allows us to make good prices for customers with large orders. So you can use this form to make a request to buy a large volume orders here. We will calculate total price + shipping costs. After we will send you an email with all the details.
How do I login with Google or Facebook?
To log in with your Google or Facebook account go to my account page select 'Sign in' with whichever platform you prefer while on the SiamBazar login screen.

To log in with Google, you will be asked to log in with your Google account. To log in with Facebook, you will be prompted to log in to your Facebook account. You will be redirected back to the SiamBazar website/app after logging in to continue shopping with us.

If you are unable to sign in with Facebook, it could be due to some Ad-blocking filters falsely recognizing the Facebook section as an advertisement. In case you have Ad-blocking browser apps or software, we recommend that you temporarily disable them.