Description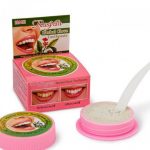 Description
Whitening Thai Toothpaste with Borneol and Cloves is based on natural ingredients and essential oils. It has an excellent whitening effect. Removes plaque and tartar, removes dark plaque on teeth from coffee, tea and tobacco. Well refreshing mouth. Breathing becomes fresh. Interferes with reproduction of bacteria in an oral cavity. Prevents caries and periodontitis. Perfectly tones the gums and prevents their bleeding. Does not erase tooth enamel, does not contain abrasive, dyes and flavorings. The whitening effect is noticeable after several days of use!
Composition:
Clove oil is a very powerful and useful natural remedy, perfectly heals wounds and cuts in the mouth, removes inflammation and destroys various viruses, bacteria in the oral cavity, acts as a sedative, pain-relieving agent, has long been actively used in dentistry and traditional medicine, tones and strengthens oral cavity.
Menthol is commonly found in natural toothpastes, as it has a calming, slightly cooling and wound-healing effect on the oral cavity. Menthol relieves nausea, removes irritation and inflammation on the gums, the back of the pharynx, provides a pleasant fresh breath and has a whitening effect.
Extract of flowers and leaves of cloves – perfectly cleans teeth from ugly dark plaque, at the same time strengthening gums and contributing to the restoration of tooth enamel. Removes excessive sensitivity of teeth and gums, helps relieve pain in a number of diseases, has an antibacterial effect, does not erase tooth enamel and reliably kills any viruses in the mouth, increasing local immunity.
The main properties of organic toothpaste:
struggling with the slightest manifestations of caries;
contributes to the rapid whitening of enamel;
reduces the hypersensitivity of the gums and tooth enamel;
prevents the development of diseases in the oral cavity;
good for toothache;
refreshes breath for the whole day;
gives a feeling of cleanliness and coolness;
eliminates dark plaque on the teeth, which remains from food and various drinks;
ensures the destruction of viruses, bacteria in the oral cavity;
suitable for regular use.
Mode of application:
Put on a toothbrush with a spatula a quantity of toothpaste the size of a small pea, after applying the jar tightly close. Clean at least 3 minutes. Rinse mouth thoroughly with water. It is recommended to use 2 times a day, in the morning and in the evening 2-3 times a week.