Description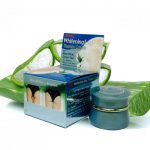 Description
The cream brightens the skin of the intimate area. Removes age spots, makes skin color more even, prevents the growth of germs. Can be used for any skin type, including sensitive. Does not cause irritation, not allergenic. Using the cream, the skin will become lighter and softer due to the rapid cell renewal. Due to the content in the cream of unique kojic acid, even the oldest pigment spots will disappear, and new ones will not appear. And this will happen without damaging the skin, since kojic acid is not toxic. The skin tone will become more even and inflammation will disappear, as the cream has antibacterial properties.
Composition:
Aloe Vera Extract – has long been used by many nations of the world as a wound healing and antiseptic, removes itching and redness, well moisturizes the skin, fills it with valuable trace elements, gives the tissues additional silkiness and elasticity.
Arbutin – is extracted from plants, has an invaluable whitening effect, suppresses the production of melanin in the skin, so that new pigment spots and browning does not form, makes the skin lighter, does not damage the cells and does not cause any harm to the body.
Green tea extract – remarkably prevents the development of bacteria, levels the overall skin tone, brightens and eliminates pigmentation, heals the skin from wounds and scuffs, is famous for its antioxidant properties.
Beeswax, candelilla and Japanese waxes have been used in medicine for thousands of years, protect the skin from external influences, reduce dryness, and at the same time do not prevent the skin from breathing, provide smooth skin, have antiviral and healing qualities, protect from rash, scaling and itching, clean and whiten the skin.
Vitamins A and E – stimulate the appearance of new clean skin, activate the regeneration processes in tissues, help in transporting nutrients, improve collagen production and give skin elasticity, reliably moisturize and relieve stress from the skin.
The main properties of the whitening cream:
removes dead and horny skin cells;
reliably destroys bacteria and viruses on the skin;
stabilizes the synthesis of melanin in the cells;
does not cause irritation, rash;
gives the skin a cleaner and more radiant look;
promotes moisture, nutrition of cells;
has a whitening effect;
makes the skin as soft and smooth as possible;
It has a gentle effect and a pleasant fresh aroma.
Mode of application:
Apply the required amount of cream to the previously cleansed moist skin of the intimate area. You need to use the cream twice a day, in the morning and before bedtime. To achieve the desired effect, use the cream daily for a long time.
The cream removes unpleasant odor, and the feeling of freshness will last all day.