Description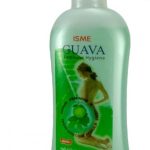 Description
Ideal for delicate care of the intimate area. Clean without irritation and allergies!
Provides protection against the formation and accumulation of bacteria, prevents odor, has a refreshing, anti-inflammatory and antiseptic effect, without causing dryness and irritation. Delicately restores damaged tissues, moisturizes and softens the skin without disturbing its natural balance. It is recommended by gynecologists for daily hygienic procedures, especially on critical days and during pregnancy, after active sports, visiting the pool, as well as before and after intimacy.
Composition:
Extract from guava leaves, triclosan.
Mode of application:
Use for intimate hygiene, diluting the product with a small amount of clean water. It is recommended to apply 2 times a day, in the morning and in the evening, especially during menstruation and menopause.
Contraindications:
An obvious allergy to the herbal components of the product, to check for an allergic reaction to the guava, apply a small amount of gel to the wrist, if after 10 minutes there is no redness, itching or other forms of irritation – there is no allergy. Children under 14 years of use with caution. In pregnancy and lactation, use only after consulting a doctor.