Description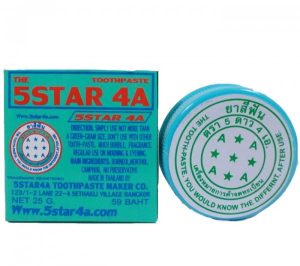 5STAR 4A – the most famous toothpaste from Thailand. Thai toothpastes owe their popularity to it. Classic original recipe, the strongest effect in whitening teeth and strengthening the gums.
Toothpaste 5 STAR 4A in a round jar perfectly whitens teeth by removing plaque. Eliminates plaque from coffee, tea and cigarettes. Effectively fights tartar, strengthens tooth enamel, prevents the development of caries, lowers the sensitivity of tooth enamel to hot, cold, sweet, relieves toothache.
Thai toothpaste 5STAR 4A is indispensable for strengthening gums and combating paradontosis, and also helps to very quickly eliminate sores and stomatitis symptoms in the oral cavity.
Absolutely natural toothpaste, does not contain abrasives, dyes.
Composition:
Calcium carbonate – strengthens tooth enamel, eliminates the initial manifestations of caries, simply whitens teeth whiteningly and is the most important building material for enamel, restores damaged areas, contributes to the operational improvement of the entire oral cavity.
Menthol is an important component of peppermint essential oil and has been used in dentistry as an antibacterial and antiseptic for many decades. Stimulates the cold receptor in the mouth, thereby guaranteeing a feeling of freshness and cleanliness for a long time. Helps the healing of scratches on the gums, relieves irritation and relieves toothache.
Camphor oil is successfully used to relieve pain in the mouth and teeth, helps to cope with gingivitis and other diseases, has an antimicrobial and irritating effect, helps to cleanse enamel from ugly plaque. This natural substance is extracted from special wood species.
Borneol – a natural derivative of essential oils, which is obtained from several types of medicinal plants growing in Thailand, is used in many toothpastes and powders, as it has an excellent whitening, lightening enamel effect, and also kills bacteria in the oral cavity, has an antiseptic and analgesic effect .
The main properties of toothpaste:
helps fight stomatitis and gingivitis;
eliminates plaque on the teeth;
promotes effective whitening of enamel;
fights tartar and paradontosis;
stops the development of caries;
refreshes breath;
reduces tooth sensitivity to sweets and temperature extremes;
eliminates irritations and heals small wounds in the mouth;
great foams.
Mode of application:
Paste 5 STAR 4A foams very well. Enough to hold a toothbrush on the surface of the toothpaste. This minimum amount is sufficient to obtain abundant foam. Brush as usual. After use, be sure to close the jar. Do not allow water to enter the jar with the paste.
To combat oral diseases – stomatitis and paradontosis – take a grain of toothpaste the size of a buckwheat grain, dissolve in 100 ml and rinse the mouth.
One jar of toothpaste lasts for several months with sole use. Can be used every day.
Please note that the original 5 STAR 4A toothpaste shows asterisks a cross and the letters A, located in a circle. There are no portraits on the package. The 5STAR5A paste is found on the market with very similar packaging, which is a product from a completely different manufacturer.