Description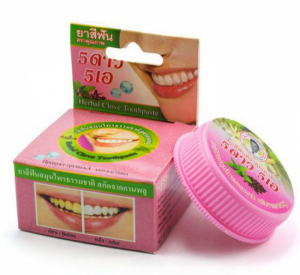 A popular Thai whitening toothpaste in round washer jars. It has an excellent whitening effect. Removes plaque and tartar, removes dark plaque on teeth from coffee, tea and tobacco. Refreshes the oral cavity well.
Ingredients: calcite, borneol, menthol, dodecyl sulfate, Stebelius leaf extract, guava leaf extract, camphor, bamboo salt, clove extract.
Method of application: Put on the toothbrush with a spatula the amount of toothpaste the size of a small pea, after applying the jar tightly close. Clean for at least 3 minutes. Rinse mouth thoroughly with water. It is recommended to use 2 times a day, morning and evening 2-3 times a week.
* If you did not find the product you are interested in in our catalog, contact us, we will try to help you.