Description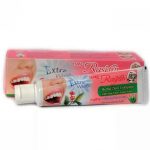 Description
It freshens breath, disinfects, removes gum inflammation, strengthens enamel and whitens teeth. Caring for the oral cavity, reduces the sensitivity of teeth, removes dark plaque from the teeth, prevents gum inflammation and the appearance of unpleasant smell from the mouth. Prevents the development of bacteria in the mouth at night, fights with them during the day after a meal. Clove oil, borneol, cinnamon and camphor effectively combat the appearance of harmful bacteria in the mouth and remove dark plaque from the teeth. Natural abrasive particles of the paste gently brush your teeth, avoiding depletion of tooth enamel and without increasing their sensitivity. There are no preservatives, fragrances or sweeteners in the paste that can become the soil for the formation of harmful bacteria.
Benefits:
whiten teeth;
struggling with a touch of tea, coffee and cigarettes;
economical to use.
Mode of application:
Apply a little paste on a dry toothbrush. Brush your teeth as usual. Tighten the toothpaste cap tightly after use. It is advisable not to use the paste daily, and alternate with other toothpastes, ideally – use 1-2 times a week.
Recommendations:
Very little expense – on the tip of the nail. It is not advisable to use for very sensitive teeth or gums. In this case, it is desirable to dilute the paste with a conventional (or medical) toothpaste at a rate of 1: 4.