Description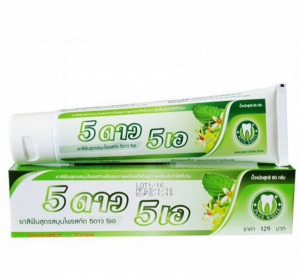 5STAR 5A Herbal Organic Toothpaste
Suitable for regular use, in its composition are extracts of medicinal plants of Southeast Asia, for example, aloe vera and guava, which positively affect the condition of the mucous membranes, as well as camphor and borneol, providing fresh breath.
The composition of the paste is completely balanced, when cleaning it does not erase the enamel, does not scratch and does not damage it, gently polishes it, safely removing plaque, including persistent, gradually whitens teeth, strengthens them, reduces sensitivity to the temperature of drinks or food, prevents development caries, a number of diseases of the oral cavity, as well as the formation of tartar.
The product is very economical, has a pleasant natural taste, foams well, without causing discomfort during cleaning, does not include chemical flavors and dyes, as well as fluorine, abrasive substances. The paste is perfect for lovers of strong coffee and tea, berry juices, smokers with "experience", with its help you can both prevent the appearance of plaque, halitosis or bleeding gums, and eliminate existing problems.