Description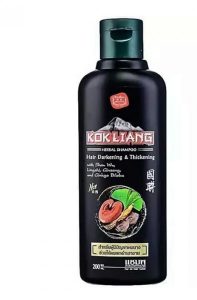 Description
Excellent shampoo, created specifically for dark hair, gives a healthy shine and softness! The use of shampoo helps to stop the loss, eliminate itching, dandruff, prevent the appearance of gray hair, normalize the production of pigment and the sebaceous glands. Shampoo foams well, has a pleasant herbal aroma, washes the hair from the first time, simplifying their combing.
Composition:
Ginseng root – fortifies and reliably moisturizes the strands, activates protective functions, is an important additive in shampoo without sulfates, as it gives the hair an unusually well-groomed and healthy look.
Lingzhi mushroom extract is used in Asian countries to care for damaged hair, is added to silicone-free shampoo in order to qualitatively restore the structure of the strands after frequent curling and styling and smooth unruly hair, cleans well of impurities, and also has a rich mineral composition.
Gingko biloba extract – remarkably combats the root causes of dryness, fragility of hair, improves blood microcirculation in the cells of the scalp and around the hair follicles, activates stable growth of healthy hair, makes them soft.
Lotus extract – valued for its antiseptic and antibacterial properties, perfectly soothes, relieves the slightest inflammation, prevents the section of curls, protects the strands from dangerous external influences.
The main properties of herbal shampoo for dark hair KOKLIANG:
    protects curls from falling out;
    improves the condition of the hair;
    strengthens the internal structure of the hair;
    facilitates the process of combing;
    activates the growth of hair follicles;
    prevents premature manifestation of gray hair;
    normalizes the water-fat balance of the strands;
    thickens hairs along the entire length;
    returns shine and bright shine to hair;
    improves the elasticity of the fibers;
    relieves irritation from the scalp;
    glues split ends;
    has an antioxidant effect;
    rejuvenates and refreshes your hair well
Mode of application:
Rinse the hair with warm water, apply a small amount of shampoo to the scalp and root zone of the hair and gently massage the hair until foam appears. Wash off after 2-3 minutes. Repeat the procedure if necessary.