Description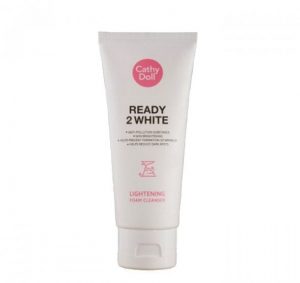 Description
Cathy Doll Ready 2 White Lightening Foam Cleanser
Facial Cleansing Foam contains the maximum complex of natural ingredients. Due to this, the substance affects the improvement of the transfer of valuable compounds deep into the cells, increase the resistance to weather factors, as well as the overall improvement of the epidermis.
The product has an effect illuminating the skin, as well as a flawless effect of moisturizing, nourishing and cleaning.
The product is safe – 100% original product, therefore suitable for all skin types. Helps to tighten the epidermis and improve its relief, provides the acquisition of beautiful, young and healthy skin.
Basic care:
exfoliation of dead cells;
make-up cleaning;
eliminate inanimate and grayish tint;
providing a healthy appearance;
dryness elimination;
elimination of excessive fat
fortification with vitamins;
brightening functions;
return of smoothness and softness.
Mode of application:
Before starting the procedure, the substance must be applied to the palm of your hand, add a little water and gently foam. The resulting foam should massage the face, and then rinse it well with running water.
Washing with a substance is recommended twice a day.