Description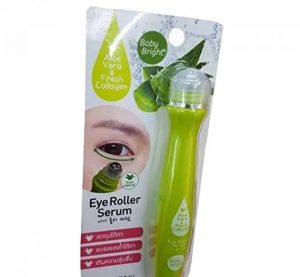 Reliable tonic, which should be in the bag for every woman, a scooter for the skin around the eyes takes great care of thin sensitive skin. Caring roller serum eliminates most of the problems that arise in the tender area around the eyes, and quickly restores and returns a fresh look. Roller with Aloe Vera and collagen from Thailand is perfectly absorbed, easily penetrates deep into the cells and can be used for applying under makeup.
Composition:
Collagen – fills the inner frame of the epidermis with power, smoothes the roughness and unevenness of the skin, reliably eliminates wrinkles on the face, provides optimal elasticity and the desired smoothness of the skin.
Hyaluronic acid – keeps water inside the cells, does not allow thin skin to dry out and protects against external influences of the wind and sun.
Aloe Vera leaf juice is a wonderful moisturizing and antibacterial natural substance, contains several hundred valuable components, including minerals, amino acids and trace elements necessary to preserve the beauty of the skin.
Allantoin – contributes to the removal of irritations, removes the layer of dead cells, heals microcracks, significantly accelerates the regeneration processes in tissues, soothes and whitens the skin.
The main properties of the roller for the area around the eyes:
removes wrinkles near the eyelids;
gives the look freshness and brightness;
fights signs of skin fatigue;
perfectly rejuvenates the cells;
revitalizes tired skin;
relieves stress and returns elasticity;
eliminates dark marks and pigmentation under the eyes;
powerfully fortifies cells;
evens and brightens the tone of the face;
fully eliminates swelling;
additionally nourishes the delicate and thin skin with moisture;
gives velvety skin.
Mode of application:
After removing the makeup and gently cleansing the face, it is recommended to hold the roller around the problem area near the eyes 2-3 times. Then the ring finger can gently pat on the skin to improve the absorption of the active substance. Does not need flushing.