Description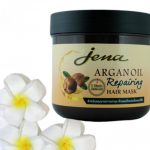 Description
An effective nourishing hair mask with Argan Oil Jena Argan Oil Reparing Hair Mask is an excellent tool for hair and scalp care. The mask contains a large number of essential vitamins and minerals. Quickly restores dry and damaged hair. Promotes deep hydration and nutrition of the hair, prevents dryness, brittleness and hair loss, treats split ends. Nourishes and moisturizes the scalp, eliminates peeling and the formation of dandruff. Restores and heals hair follicles, stimulates the growth of healthy and strong hair. It makes hair soft, smooth and obedient, gives it extra volume and a healthy shine.
Perfect for hair care exposed to frequent chemical and thermal influences.
Mode of application:
Gently apply the mask to clean, damp hair along its entire length. Leave on for 1 minute. To increase the effect, wrap your head in a damp, warm towel for 5 to 10 minutes. Rinse with clean, warm water.
It can be used regularly.