Description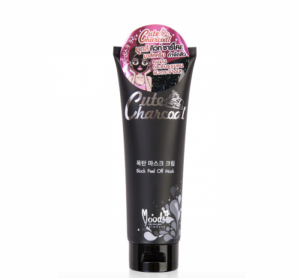 Black Peel Off Mask Cute Charcoal Moods
Natural mask – face film with bamboo charcoal.
After application:
Cleans nose of black dots
Reduce pores
Eliminate acne and inflammation
Remove dead skin particles.
Composition:
Charcoal – absorbs dirt, perfectly cleans pores, reduces clogging.
Bambusa Vulgaris Extract – Rich in Antioxidants. Helps maintain a good level of moisture in the skin. Soothes the skin Helps prevent various skin problems
Japanese Angelica Extract (Angelica Acutiloba Root Extract) – helps moisturize the skin. Reduces damage to skin cells from sunlight.
White Flower Extract (Artemisia Capillaris Flower Extract) – provides skin hydration. Reduced melanin pigment Makes the skin more radiant
Coix Lacryma-Jobi Ma-yuen seed oil contains many nutrients that help restore skin. Including Vitamin E
Ascorbyl glucoside is a derivative of vitamin C, which is stable and soluble in water. Helps reduce the amount of free radicals that harm our skin. Strengthens collagen. Make your face shine.
Method of application: apply a mask with a thin layer on previously cleansed skin on problem areas – nose, T-zone, chin.
Wait until the mask has completely dried (about 20 – 25 minutes) and carefully remove it upwards
If the pores are heavily clogged, all pore contents will remain on the mask.
Use 3 – 4 times a month
Shelf life 6 months after opening
Avoid getting to the border with your hair!