Description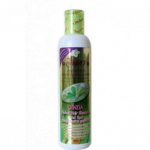 Description
Jinda Baimisot Shampoo and SPA with rice milk is included in the complex of drugs for the treatment of baldness, hair loss, dandruff, seborrhea, fungal diseases of the scalp. Jinda shampoo is recommended for the restoration and treatment of hair and scalp, regularly exposed to aggressive damaging effects of dyeing, perm, heating devices, etc. The conditioner moisturizes and nourishes the skin and has a softening and soothing effect on the skin, helps restore damaged hair structure and stimulates blood circulation in the hair roots.
Ingredients: Litsey Sticky, rice milk, provitamin B5.
How to use: Apply a small amount of shampoo on the scalp and hair, make a thorough massage of the head. Apply shampoo to well-moistened hair, spreading it over the entire length of the hair, and leave it on for 5-10 minutes. The shampoo acts as a treatment mask for hair, which is why such a longer exposure time has an additional therapeutic effect on the hair. Then rinse hair with water. To achieve the best effect, use shampoo in the morning.