Description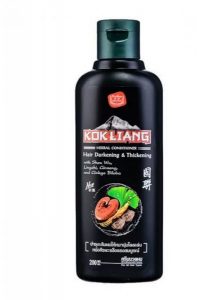 Description
When using the air conditioner, even the most lifeless hair is filled with strength and softness, easier to comb and styling, exudes a delicate fresh flavor. Regular use stops hair loss, gives a mirror shine and luxurious softness, stimulates growth, increases thickness, fights dandruff and itching. The conditioner has an unusual, but very pleasant aroma, is economically consumed, it is simply indispensable for those who dye their hair or expose it to aggressive agents.
Composition:
The extract of the fungus lingzhi – known in China under the name "Immortal herb", has healing properties, fills cells with amino acids, macro and microelements, contains more than 80 types of enzymes, removes allergic reactions and starts regeneration processes.
Gingko biloba extract – prevents early aging of the curls, helps to preserve the bright color of the hair for a long time, gives the surface of the hair an additional smoothness and mirror shine.
Ginseng extract – increases the amount of oxygen entering the cells, activates the hair follicles, maintains the silkiness of the hair, makes it easy to comb curls, does not allow harmful substances from the atmosphere to penetrate into the internal structure of the strands.
Herbal extract Shou Wu (mountaineer multicolored) – has an antioxidant effect, is famous for its truly unique ability to restore damaged hair and maintain a healthy hair.
The main properties of the conditioner for dark hair KOKLIANG:
has a calming and healing effect;
increases the density of curls;
accelerates the growth of hair follicles;
stimulates metabolic processes in cells;
improves blood microcirculation and nutrient influx;
increases the protective function of curls;
facilitates the installation process;
envelops strands, protecting them from thermal damage;
stabilizes the water balance;
enhances the production of pigmentation, struggling with the manifestations of gray hair;
strengthens the roots and heals the split ends.
Mode of application:
Use conditioner after shampooing. Apply conditioner to moist clean hair, spread over the entire length of the hair, massage the scalp with massage movements, leave the conditioner on the hair for 3-5 minutes, then rinse with water.