Description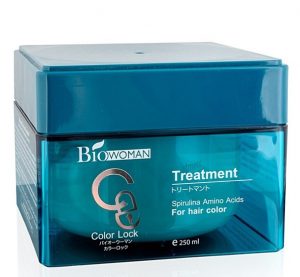 Description
Bio Woman Treatment O2 Color Lock For Hair Color with amino acids and algae for nourishing dyed hair.
This mask from Thailand takes care of hair that has been dyed or regularly exposed to hot air. Thai vegetable oils protect and nourish your hair with moisture.
A unique formula containing green chlorophyll extract from Spirulina algae from the seabed enriches your hair with oxygen and perfectly cleanses and protects them from chemicals. Not only your hair, but also the bulb of your hair is enriched with oxygen. Prevents hair loss.
O2 – a series with a color blocking effect, the mask is specially designed for colored hair. These are the latest innovative innovations – a special formula contains oxygen, which is extracted from chlorophyll spirulina algae and has high permeability. The mask nourishes, strengthens and activates hair growth, improves blood circulation of the scalp by increasing oxygen consumption, as well as by cleansing of residual chemicals from the hair and scalp, thereby preventing hair loss and normalizes the sebaceous glands. This unusual formula is very effective in caring for dyed hair, effectively protects hair from heat and sunlight and restores its smoothness and radiant shine. Color Lock technology helps to maintain a bright color of dyed hair for a long time and deeply moisturizes the scalp, makes dyed hair silky and shiny, even with frequent washing of hair.
The result is healthy, shiny, silky and obedient hair that is easy to comb and not tangled.
How to use: Apply a small amount of mask to shampooed hair. Massaging movements distribute it through the hair. For a better effect, wrap your head for a warming effect. After 10 – 15 minutes rinse with warm water.