Description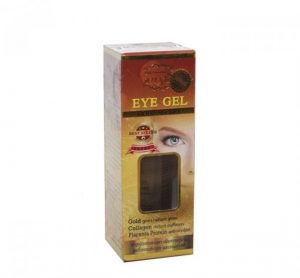 Description
Darawadee Eye Gel Gold Secret
The magnificent anti-aging gel for the eyelids is made on the basis of natural natural components, contains Biologically active gold, collagen and many other micronutrients. The gel effectively nourishes and deeply moisturizes skin cells. It has an excellent anti-aging effect, accelerates the process of cell renewal. Stimulates the production of own collagen and elastin, increases skin firmness and elasticity. Tightens and strengthens the skin, smoothes wrinkles. Refreshes, removes swelling and removes dark circles around the eyes. It has antioxidant properties.
Basic care:
Deeply moisturizes and retains moisture.
Smoothes and tightens the skin.
Prevents dryness.
Returns elasticity.
Prevents the formation of wrinkles.
Evens out skin tone.
Ingredient:
Collagen is a gel with anti-aging effect, which eliminates swelling, fine lines and excessive dryness. Tones up, tightens, promotes firmness, smoothness, elasticity.
Vitamin E – is a prevention of early wilting of the epidermis, eliminates small wrinkled grooves, eliminates damage, helps normalize lipid balance.
Bio-gold in the gel for the skin around the eyes binds all components and gives a lasting effect of rejuvenation.
Suitable for all skin types.
Mode of application:
Apply a small amount of gel to the area around the eyes. Gently massage with your fingertips until completely absorbed. Can be used under makeup.
It is recommended to use twice a day: morning and evening.