Description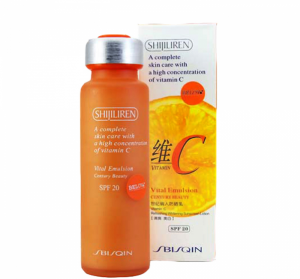 SHIJILIREN Whitening Active Skin Gold Lotion 35 gr. Lotion with a gel texture contains a high concentration of vitamin C and gold, the effectiveness of which in cosmetology is extremely high. If you are used to always choose the best and follow this principle in facial skin care, then this product will definitely be highly appreciated! Vitamin C, the strongest antioxidant, protects the skin from UV rays, improves its immunity, smoothes wrinkles by stimulating collagen production, evens out facial tone, eliminating dark age spots.
Vitamin C is a powerful antioxidant that protects the skin not only from the harmful effects of urban ecology, but also from destructive UV rays. The unique formula will help not only eliminate the existing problems, but also save the result. The cream has a pleasant texture, deeply moisturizes, completely eliminating skin tightness and discomfort, is well absorbed without forming an oily film and without clogging pores. The unique composition of vitamin creams can effectively combat fine lines, reduces skin pigmentation, leaving the skin more youthful, supple and beautiful.
Method of application: apply to clean skin of the face and neck after washing with light massage movements.