Description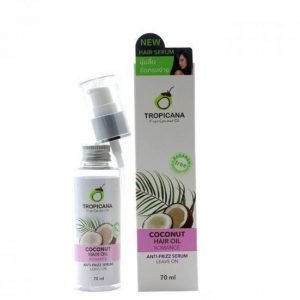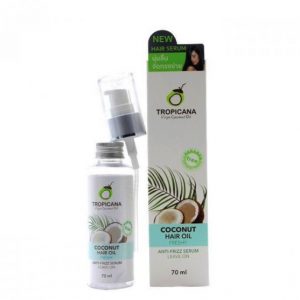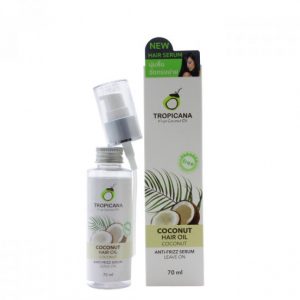 Description
Specially developed oil – serum for hair of intensive action. It has a non-greasy base. Contains all the beneficial properties of coconut oil. Coconut oil for hair Tropicana nourishes the hair, protects them from the harmful effects of the environment (sun, dust, polluted air, conditioned room air). It makes hair soft, well-controlled, reduces static electrical voltage, improves hair structure, helps to repair damaged hair.
Serum TROPICANA is recommended as a means of treating dry ends, as well as to protect and nourish hair of any type.
Composition:
Composition: Cyclomethicone, Dimethicone, Dimethiconol, Cocos nucifera (Coconut) Oil, Helianthus annuus (Sunflower) seed oil, Flavor.
Coconut oil (Cocos nucifera (Coconut) Oil) – treats damaged, dry and split hair, makes them healthy and shiny, is also used to treat hair loss, soothes the scalp. It nourishes the hair, protects the hair from the environment.
Sunflower seed oil (Helianthus Annuus (Sunflower) Seed Extract) is distinguished by powerful regenerating and moisturizing properties, and helps to solve the problem of dry skin and hair.
Dimethicone (Dimethicane), Cyclomethicone, Dimethiconol – protects the skin and hair from the harmful effects of the environment (ultraviolet light, polluted air, air conditioners, computers).
Serum Properties:
moisturizes, restores and reconstructs the hair structure;
protects against climate change and heat treatment;
cares and heals from root to tip;
does not weigh hair.
Mode of application:
It is possible to apply both on wet, and on dry hair. Apply a few drops of serum on the palm and rub into the hair and scalp. Does not require rinsing. Absolutely not fat. Immediately absorbed.