Description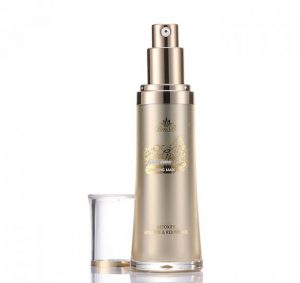 Description
An unusual mask with bubbles from the well-known Thai brand BM.B – Gold White Detox Cleansing Mask with gold and vitamins cleansing detox mask. The peculiarity of this unique mask is that within a few seconds the application of a gold layer to the skin transforms into a bubbling foam. The foam has an airy consistency and it pleasantly "clicks" on the skin, acting on it as a light micro massage.
Premium product! The skin is noticeably transformed after the first use of the mask – the complexion improves, the skin gets moisturized, nourished and toned, a smoothing effect is noticeable.
Composition:
Vitamin B3, vitamin B5, filtrate of snail mucus, allantoin, glycolic acid, arbutin, kojic acid, gold.
Biogold, on the basis of which the mask is made, enhances blood circulation in the skin cells, promotes the elimination of toxins, tightens, smoothes the skin, makes it more elastic, and has a lifting effect on the skin.
Arbutin and Kojic acid fight pigmentation, whiten the skin, help reduce inflammation, have a softening effect.
Vitamin B3 renews the skin at the cellular level, increases its elasticity, fights wrinkles and inflammations, improves the relief and color of the skin. Vitamin B3 relieves peeling and irritation of the skin, has a tonic effect on it.
Vitamin B5 moisturizes and soothes the skin, relieves irritation, inflammation and itching, has a pronounced rejuvenating and smoothing effect.
Allantoin has antioxidant, anti-inflammatory and antimicrobial action. It gently exfoliates dead skin cells, cleanses the pores, soothes various irritations and improves the protective functions of the skin. Allantoin helps moisturize and soften the skin, speeds up the healing and regeneration processes.
Snail mucus heals and heals the skin, providing an anti-inflammatory effect on it. The filtrate of the cochlea smoothes the skin's relief, restores the elasticity and firmness of the skin, slows down the aging process.
Glycolic acid is the most popular in fruit acid cosmetics. It quickly and easily penetrates the skin cells, exfoliating dead and dead skin cells. Glycolic acid refreshes and smoothes the skin's relief, helps get rid of acne and acne, dries and tightens pores.
Properties of the face mask:
cleans and tightens pores;
brightens and gives the skin a gentle glow;
helps to increase the elasticity and elasticity, has a lifting effect;
soothes inflammation and irritation;
moisturizes and tones;
improves metabolic processes in cells and saturates them with oxygen;
It has a deep detox effect.
Mode of application:
Apply a mask on cleansed face with a thin layer, avoiding the area around the eyes and lips, and leave for 10-15 minutes. Then rinse with warm water. Use 1-2 times a week.
During its operation, the foam mask does not flow, does not move out and does not cause any discomfort – while the mask is working, you can safely do your usual activities or just relax.