Description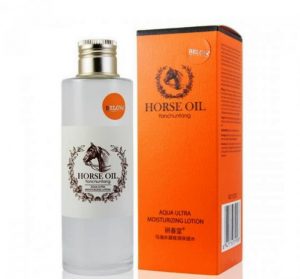 Horse Oil Yanchuntang Ultra Moisturizing Face Lotion based on horse fat is designed for the final cleansing of the skin, created on the basis of biologically active components and horse fat. The active formula cleanses, moisturizes and nourishes the skin.
Yanchuntang Horse oil is suitable for all skin types: oily, combination, dry and normal. The lotion has an ideal pH-acidity, so its use provides the perfect balance of the dermis.
The effect when using oily skin type is that the product dries out rashes, inflammations and abscesses, heals small cracks, and disinfects, preventing the development of infection. Horse fat lotion normalizes the sebaceous glands. Thanks to this, the oily glossy gloss of the skin is removed. The product tightens pores, soothes and softens the skin, improves blood flow and tones the skin.
When caring for a dry skin type, you should carefully monitor the level of skin hydration. In addition to daily replenishment of moisture, dry skin type needs to be softened and strengthened. This type of skin has a fine structure and fragile vessels, Yanchuntang Horse oil lotion has a strengthening effect, improving blood microcirculation and toning the skin, saturating the cells with oxygen and vitamins. Thanks to the natural wax of the royal bees in the Yanchuntang Horse oil lotion, the skin becomes elastic and the cells lose less moisture.
The lotion is useful for aging skin, as horse fat contains a huge amount of fatty acids and minerals that strengthen the dermis, nourish the skin, smooth wrinkles, and rejuvenate cells. Yanchuntang Horse oil lotion has regenerative properties, stimulates cell division and skin rejuvenation.
Horse fat contains many vitamins, fatty acids, amino acids, it is used in traditional medicine and in cosmetology, as it is easily absorbed by the skin, with regular use, giving a lasting noticeable result.
Cosmetics with horse fat help saturate the skin with nutrients, restore its flowering and healthy appearance, smooth wrinkles, preventing their reappearance.
Allantoin performs the whitening function in the lotion. Produced from plants, it safely reduces the amount of melanin produced, thereby brightening both age spots and the overall tone.
Method of application: Use a cotton swab to cleanse the skin with a moisturizing lotion, then apply a daily care agent. Suitable for all skin types. Lotion is recommended for daily use.