Description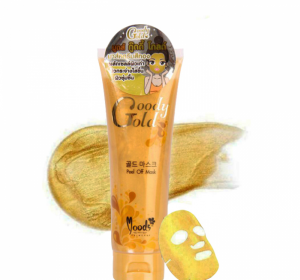 Moods Goody Gold Peel Off Mask
Mask containing gold microparticles perfectly cleanses and moisturizes the skin. Regular use of this mask stimulates regeneration, tightens and smoothes the skin, improves skin respiration and nutrition, removes toxins and toxins, tightens pores, and stimulates blood circulation.
Composition:
Bio-gold has powerful anti-inflammatory, antioxidant and antibacterial effects, accelerates cell division, the production of collagen and elastin, which contributes to the active lifting and smoothing of wrinkles from the inside, fights pigment spots, removes toxins and toxins.
Vitamins C and B3 protect against aging, increase skin elasticity, make facial contours clearer, eliminate inflammation, acne, sagging, dull, normalize metabolism in cells, and prevent evaporation of moisture.
Arbutin is famous for the fact that, slowing down the synthesis of melanin, brightens age spots, this component also protects against UV rays and eliminates bacteria.
Hyaluronic acid is an unsurpassed moisturizer, instantly eliminating dryness, tightness and discomfort, accelerating the synthesis of collagen and elastin, "starting" the process of smoothing wrinkles and lifting the face contour.
Mulberry extract deeply moisturizes, having a rich set of vitamins, it has a beneficial effect on the condition of the skin, improves facial tone, eliminates age spots, traces of fatigue, accelerates cellular metabolism, and cleanses remarkably.
Method of application: apply a mask with a thin layer on previously cleansed skin on problem areas – nose, T-zone, chin.
Wait until the mask has completely dried (about 20 – 25 minutes) and carefully remove it upwards
If the pores are heavily clogged, all pore contents will remain on the mask.
Use 3 – 4 times a month
Shelf life 6 months after opening.
Avoid getting to the border with your hair!