Description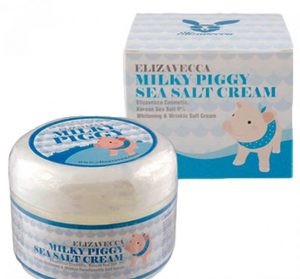 Description
Milky Piggy Sea Salt Cream whitening anti-aging cream with sea salt and pork collagen has a light, gel consistency, is quickly absorbed into the deeper layers of the skin, does not leave stickiness or fat content on the epidermis surface. The cream has a pronounced anti-inflammatory, soothing, firming, moisturizing, nourishing effect, combats all types of hyperpigmentation, reduces the depth and number of wrinkles, slows down the appearance of signs of wilting. Suitable for all skin types. Ideal for normal, combination, oily, problem skin.
Composition:
Chemical composition: Sodium Chloride, Cyclopentasiloxane, Cyclohexasiloxane, Butylene Glycol, EG 10cerine; Hydrolyzed Collagen; Dimethicone, Hamamelis Virginiana (Witch Hazel) Extract, Acrylates / Vinyl Isodecanoate, Crosspolymer, Allantoin, Fragrance, Adenosine, Disodium EDTA, Dipotassium Glycyrrhhizate, Aloe Barbadensis Leaf Powder, Tocopheryl Acetate, crisp, crisp, crisp, cryptography
Collagen. The cream contains hydrolyzed porcine collagen, which is a powerful moisturizing ingredient. It actively absorbs water molecules from the surrounding space and helps them stay in the deep layers of the epidermis.
Sea salt. Sea salt cleanses and heals the skin. It exfoliates dead cells, replenishes mineral deficiencies, stimulates metabolism, improves blood circulation and strengthens local immunity.
Niacinamide. This substance brightens the skin, evens out its tone, reduces the severity of pigmentation and other imperfections. Niacinamide also absorbs excess fat, regulates the sebaceous glands, makes the complexion brighter and more saturated.
Aloe vera extract. Aloe regenerates and soothes the skin, saturates it with vitamins, inhibits the activity of microbes and bacteria.
Witch hazel extract Verginsky. This plant has strong astringent properties. It mattes the skin, relieves inflammation and soothes irritations.
Advantage of use:
Intensive moisturizing. The cream instantly relieves the skin from dryness, tightness and peeling. It nourishes every cell with moisture, restoring normal hydrobalance and protecting the epidermis from premature aging.
Recuperation. The cream nourishes the skin with many beneficial trace elements, strengthens blood vessels, relieves inflammation and irritation. It restores the smoothness and elasticity of the epidermis, regulates the secretion of the sebaceous glands and tightens the pores.
Convenience. The cream has a light gel texture, thanks to which, it is easily distributed over the skin and is quickly absorbed. The cream does not leave a greasy film, does not weigh down the skin, does not cause feelings of stickiness and discomfort.
Release form:
The cream is packed in a jar of transparent plastic, which is sealed with a protective membrane. The kit includes a plastic spatula, which helps to conveniently apply the tool. The product is placed in a cardboard box with a picture of a pig.
Cream volume – 100 ml.
Mode of application:
Apply a small amount of the cream to the skin as the last step of daily care, avoiding the eyes and lips. Use 1-2 times a day.