DARLIE, Whitening Toothpaste with Bamboo Charcoal 85 gr.
Description
 DARLIE™
 Toothpaste
 85 gram
 120 gram
 Thailand
Description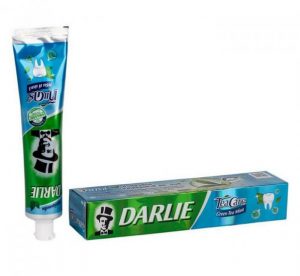 Description
Darlie White Glitter Toothpaste with Bamboo Charcoal effectively and thoroughly cleans the oral cavity with particles of coal that have the natural ability to absorb dirt, odors, toxins and bacteria. In combination with the Active Whitening Agent (SWA), toothpaste provides dual benefits – whitening and cleansing. Using SWA removes superficial and stubborn stains. Contains fluoride, which fights infections in the mouth and protects teeth.
Method of application: brush your teeth regularly, 2 times a day, in the morning and in the evening, for at least 3 minutes. Use small doses of the paste, as it is very concentrated.