Description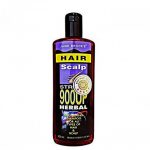 Description
100% natural shampoo to help restore hair. Specially designed for gentle cleansing of hair and scalp, improving texture and restoring shine. This shampoo makes hair smooth, soft and silky, protecting it from roots to ends. It also enriches hair roots with essential nutrients, which makes them stronger. This concentrated shampoo has a healing effect, prevents hair loss and helps fight dandruff and itching. Gives shine. Suitable for all types of hair and has the functions of a conditioner.
Ingredients: Herbal extracts of Eucalyptus, Sage, Nettle, Essential Oils, Panthenol.
How to use: Apply shampoo to wet hair. Rub it into the roots of the hair with light massage movements, then rinse with water.