Description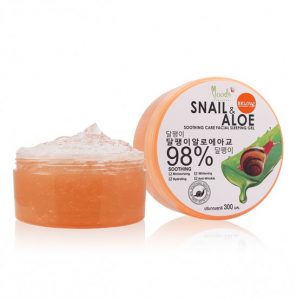 Description
Gorgeous nourishing night gel for the face has excellent anti-aging properties, activates the process of cell renewal, promotes the development of its own collagen and elastin, improves skin elasticity, tightens and strengthens the skin, smoothes wrinkles, contributes to narrow pores. The gel deeply moisturizes and nourishes the skin, helps preserve the water balance of skin cells, brightens, evens skin color, eliminates pigmentation and prevents the appearance of freckles. Soothes the skin, actively fights irritations and inflammations on the skin, relieves swelling and refreshes the skin. It heals the skin, making it radiant, soft and smooth. Suitable for problem skin.
Composition: Snail secretion extract, aloe vera extract, vitamins B, C, E.
Snail mucus is a hypoallergenic component that, barely appearing in the creams and foams, immediately became a hit! It is almost universal, has the ability to retain moisture, stimulate tissue regeneration and renewal, even out tone, smooth out wrinkles, eliminate itching, allergic manifestations, desquamation, dark circles and hyperpigmentation. Snail mucus creates a protective film on the surface of the skin, without disturbing cellular respiration, it is quickly absorbed, completely eliminating discomfort and tightness after washing.
Aloe Vera contains more than 200 nutrients, among which are vitamins, micro and macronutrients, antioxidants, as well as a record number of amino acids. Scarlet from ancient times was used in medicine and cosmetics. This component is also hypoallergenic, often included in preparations for the treatment of skin diseases, helps to solve any problem: from teenage acne to age pigmentation and wrinkles!
Properties of the night gel:
instantly gives a feeling of freshness and comfort;
deeply moisturizes, nourishes and soothes;
not causing acne and shine;
means is perfectly absorbed;
does not roll down;
suitable for summer use.
Mode of application:
Apply a small amount of gel to clean, dry skin. Gently massage until completely absorbed. It is recommended to use after taking a bath or shower.