Description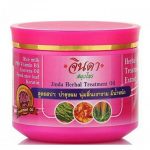 Description
Designed for light and thin curls, the Jinda hair growth treatment mask is ideal for regular use. It provides a regenerative effect and makes the strands noticeably heavier, thickening each hair along the entire length. A mask with rice milk, keratin, vitamin E and other extremely useful ingredients not only significantly accelerates hair growth, but also helps to overcome the problem of baldness (both in women and men).
The main properties of the therapeutic mask for hair Jinda:
heals curls along the entire length;
helps to get rid of the problem of hair loss;
promotes the activation of sleeping hair follicles;
guarantees the growth of healthy hair;
relieves itching of the head, redness and dandruff;
has a general strengthening effect;
returns tresses to silkiness and obedience;
facilitates combing and styling;
prevents brittle hair;
relieves cut ends;
used to prevent the loss of curls.
Composition:
Rice milk – a popular natural substance in the East with a high concentration of trace elements, has many useful cosmetic properties. It has a restorative, nourishing and anti-aging effect, regenerates damaged areas of hair.
Aloe Vera extract – softens strands, preventing the loss of excess moisture, tones and moisturizes the scalp, helps renew the skin, enhances the metabolism in cells, has a wound healing and antioxidant effect.
Vitamins E and B5 are necessary for the full growth of beautiful curls, prevent hair loss, awaken earlier sleeping bulbs, improve blood microcirculation in the scalp.
Keratin is an important building material for strands, fills damaged particles of dry hair, returning them softness and elasticity.
Blue tea extract is a natural remedy for preserving the beauty and health of hair, which has long been known in Southeast Asia. Thanks to its unique composition, it heals even very damaged hair and promotes its rapid growth.
Mode of application:
To treat the length and ends of the hair, the mask should be applied to previously washed hair, distributing it evenly along the entire length. Keep on hair for 20-30 minutes, then rinse thoroughly.
To treat and nourish the scalp, apply the mask to the damp hair roots and leave for 20-30 minutes. It can be applied simply to dampened hair, without prior washing. The mask must be washed off the head with shampoo.