Description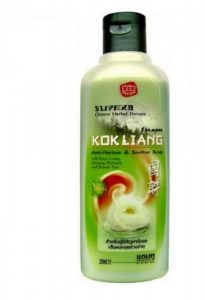 Description
Hair shampoo against hair loss perfectly relieves itchy scalp and nourishes the hair roots with natural strength. The shampoo is suitable for even the thinnest hair and sensitive scalp. To enhance the effect, it is recommended to use together with the KOKLIANG conditioner.
Composition:
Snow lotus extract – increases the elasticity of the strands, is well absorbed, enriches the cells with microelements, intensively moisturizes the curls, prevents the tip section, stabilizes the fat balance and stops excessive hair loss.
Extract of ginseng root – has long been used in Asian countries to stimulate the growth of curls, helps get rid of seborrhea and unwanted dry skin, fills the internal structure with useful minerals, enhances the silkiness and smoothness of the hair.
Jasmine tea – perfectly heals small wounds on the head, destroys bacteria and helps to quickly soothe the skin, also has an antioxidant effect, remarkably rejuvenates the hair and gives it extra natural shine, as well as a beautiful volume.
Borneol – is an essential oil obtained from the camphor tree, penetrates deep into the cells, increases metabolism and improves blood flow to the bulbs, so that strands start to grow faster.
The main properties of KOKLIANG sulfate-free shampoo:
    responsible for the optimal nutrition of cells;
    helps against dandruff;
    helps activate dormant hair follicles;
    moisturizes curls along the entire length;
    glues previously cut ends;
    has a rejuvenating and toning effect;
    well deodorizes the scalp;
    suitable for vitaminization and best cell nutrition;
    It is a natural shampoo without parabens and sulphates;
    fights hair loss;
    eliminates redness and itching on the skin.
Mode of application:
Rinse the hair with warm water, apply a small amount of shampoo to the scalp and root zone of the hair and gently massage the hair until foam appears. Wash off after 2-3 minutes. Repeat the procedure if necessary.