Description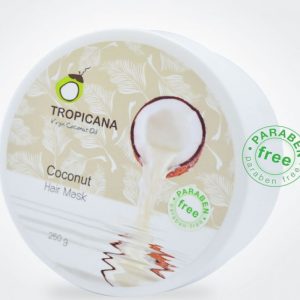 Description
Coconut-based hair mask intensively nourishes, moisturizes and protects hair, prevents the appearance of split ends of hair, restores hair structure. It makes hair soft, smooth and silky. Coconut hair mask perfectly restores hair after dyeing and curling, prevents dandruff and has a healing effect on the hair cuticle.
Composition:
The mask contains coconut oil, argan oil, Litsey gum extract (Baimisot).
Coconut oil – solves the problem of damaged, dry and split ends, making them healthy and shiny, is also used to treat hair loss, soothes the scalp. It nourishes the hair, protects the hair from the environment.
Argan oil – Argan oil is obtained from the seeds of argan tree, or, as it is also called, iron tree, which grows only in Morocco. Argan oil is considered one of the rarest and most expensive vegetable oils in the world. Argan oil strengthens hair, makes it softer, nourishes and gives them an incredible shine. Masks and shampoos for hair with argan oil eliminate dandruff and make hair shiny and silky, elastic, prevent hair loss.
Litseya Gluey (Litsea Glutinosa), in Thailand it is called Baimisot – used in preparations against hair loss, is a stimulator of hair growth, strengthens the hair roots, improves the hair structure, prevents dandruff.
Hydroxyethyl urea – hydrolyzed urea derivative softens, moisturizes the skin, helps cleanse the pores of the skin, helps to accumulate and retain moisture.
Mode of application:
Apply a small amount of coconut mask to wet hair, leave for 15-30 minutes, then rinse with water. For best results, it is recommended to use a mask once a week. Hair mask is very thick and economical to use, has a pleasant coconut aroma.