Description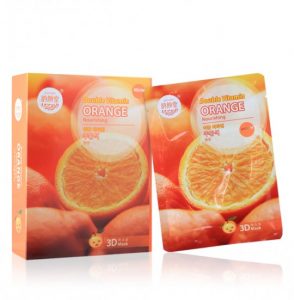 Description
The mask on a fabric basis is enriched with impregnation with essence, characterized by a high content of active ingredients and enriched with orange extract. It is enriched with vitamins and a variety of minerals, is effective for skin inflammation, stimulates the process of cell renewal, whitens postacne and unwanted pigmentation. Returns a healthy shade, effective against dullness and fatigue. As a result, her face glows with health. The unique shape of the 3D tissue mask ensures perfect adherence to the epidermis without displacement, which will allow you to do your usual activities, while the nutrients of the remedy act to moisturize and restore the skin.
Composition: Orange fruit extract, lemon fruit extract, disodium EDTA, flavoring, crested extract of Okhotsk, extract of Mari white flowers, extract of lettuce, grape oak extract.
Orange – a source of vitamin C, an antioxidant that neutralizes the main cause of aging – free radicals. The famous ascorbic acid improves the synthesis of its own collagen, zlastina and hyaluronic acid, brightens both the general tone and individual darkening, smoothes wrinkles, improves elasticity, strengthens the immune system, stimulates the rapid healing of wounds, acne, inflammation, softens and moisturizes. Serum, which is impregnated with the fabric base of the mask, returns the shining look to the face after the first procedure, making it rested, as if "erasing" the traces of fatigue. The product gently removes dead cells, bacteria, excess fat, normalizes metabolic processes, improves blood circulation.
Mode of application:
It is recommended to first thoroughly clean the surface of the epidermis, then use a tonic. Remove the product from the packaging and apply on the face, gently distribute. Leave on for 20 – 30 minutes, then remove and massage the remaining serum into the skin with your fingertips. For best effect, use masks up to three times every week.
Release form:
Vacuum bag, serum 38 ml, set of 10 pieces.