Description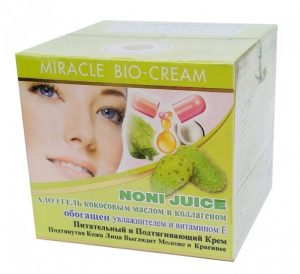 Description
Miracle Bio from Darawadee – light cream for the face and neck with a delicate aroma that will help make the care as comfortable, pleasant and effective as possible! The active components, selected in a harmonious proportion, take care of the beauty of the skin and its youth, ensuring normal blood circulation and metabolic processes, stabilizing the water balance, accelerating the synthesis of collagen, elastin, neutralizing free radicals. The product is quickly absorbed, can be applied before performing makeup, because it does not clog pores and does not provoke acne, stickiness, oily film.
Thai noni fruit is rich in antioxidants, which destroy free radicals that cause aging, fight wrinkles, remove toxins and slags, deeply cleanse and tone up.
Coconut oil is perfectly absorbed by the skin, instantly softening and refreshing it, solves almost all problems of a dermatological nature, protects from UV rays. Collagen contributes not only to filling wrinkles, but also activating the body's own production of collagen, which significantly speeds up the lifting process. Grape seed extracts, aloe vera and turmeric complement the balanced formula of the cream.