Description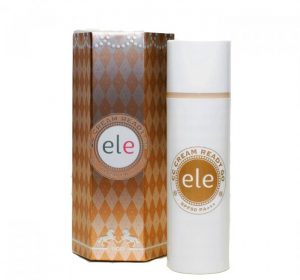 Description
ELE CC Cream Ready Go is a new product that will appeal to any beauty-conscious girl. The product is available in a bottle equipped with a dispenser for convenience. It is based on a creamy recipe, the very same white shade. When applied, the cream is quickly absorbed, eliminating the imperfections of the dermis (wrinkles and bumps), and at a professional level. Also, the product successfully resists skin defects, preserving its youth.
Ready Go belongs to the CC type creams. Reduction means "control over the tone" (color correction, English), and literally – these are not big words, but a real cream effect! The new product from the ELE brand makes the tone even, eliminates signs of fatigue, irritation, the effects of acne, age spots, wrinkles. The product actively moisturizes the skin, nourishing throughout the day. The cream is an excellent make-up base. It can also be used as a standalone product with a tonic effect.
The product is based on a number of useful substances: extracts of papaya, orange, mango, myrtle, pomegranate, hedgehog and other components that fill the skin with vitality and help fight against an aggressive environment, resist acne, the appearance of unwanted pigmentation, inflammation, making the face even. Just apply this cream and go about your business – effortlessly and having to do makeup!
Mode of application:
Apply to clean, dry skin, or after absorbing care products. It can be used after using care products.
Apply 15 – 30 minutes before exposure to ultraviolet light.