Description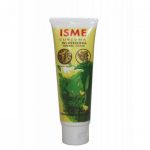 Description
Isme Curcuma Whitening Herbal Foam
Soft wash foam contains a rich complex of natural ingredients – turmeric oil, ginger oil, rice oil, white mulberry root extract, etc. Each of these ingredients individually already has healing cosmetic properties, and together they make the foam especially worthy of attention.
Foam deeply cleanses the pores. Due to the content of traditional Thai herbs – fireplace (turmeric) and playa (ginger) foam gently cares for problem skin, eliminates acne, black spots, blackheads. Turmeric and ginger also have anti-aging properties, tighten the skin.
Foam evens out skin tone, brightens age spots, post-acne spots. Due to the content of rice oil and vitamin E, the foam nourishes, moisturizes, tones and tightens the skin. It has a rejuvenating effect, smoothes wrinkles, stimulates the regeneration (renewal) of the skin.
Suitable for both problem and especially sensitive and aging skin due to an optimally selected complex of components.
Active Ingredients:
Turmeric (Curcuma Longa Root Oil) in Thailand it is called a fireplace (Kamin) – it has pronounced antioxidant properties, has a powerful anti-aging effect, restores the desired smoothness, firmness, firmness and elasticity to the skin, relieves the main symptoms of acute inflammatory skin diseases, promotes resorption of acne, scars, bruises and traumatic tumors, has a whitening effect
Purple ginger (Root Oil), in Thailand it is called play (Plai) – it has anti-inflammatory, antiseptic properties, gives the skin elasticity and firmness, strengthens tissues
Rice oil (Oryza sativa Bran Oil) – is considered one of the most important natural sources of vitamin E and antioxidants, has excellent emollient, anti-inflammatory and regenerative properties.
White Mulberry Root Extract (Morus Alba (Mulberry) Root Extract) – brightens the skin, regulates the production of melanin, which is responsible for complexion, eliminates dark circles under the eyes
Citric acid – has an astringent, cleansing and whitening effect on the skin
Lactic Acid – affects the regeneration and renewal of the skin, exfoliates dead cells
Polyglutamic acid (Polyglutamic Acid) is an innovative polypeptide that has both an instant, pronounced and delayed, powerful moisturizing effect, much greater than hyaluronic acid, reduces the effects of trans-epidermal water loss, increases the production of a natural moisturizing factor (hyaluronic acid does not have such a result)
Vitamin E (Tocopherol) is one of the many forms of vitamin E, which is considered the main antioxidant nutrient and is widely known in medicine and cosmetology as a vitamin of youth, prevents dry skin, activates blood circulation and improves blood circulation, stimulates tissue regeneration, reduces vascular fragility and strengthens the walls of capillaries, prevents the appearance of senile pigmentation, slows down the formation of free radicals and lipid oxidation, significantly improves the condition of the skin
Triclosan is a well-known broad-spectrum antibacterial agent, has anti-inflammatory properties, acts on gram-positive and gram-negative flora, as well as fungal microorganisms.
Method of application: squeeze a small amount of foam from the tube, mix in the palm of your hand with water, apply to the face with massage movements, massage for 2 to 3 minutes, then rinse with warm water. Use in the morning and evening.