Description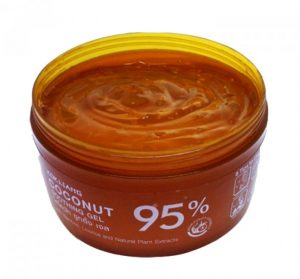 Description
All-in-One multi-soothing gel containing 95% extra virgin coconut oil and special formula with bamboo, licorice and vitamin A C &E 5% calms the skin to reduce stress and tension for the ultimate aromatherapy experience. This gel brightens the complexion and reduces dark skin around the neck, elbows, knees and underarms. Perfect for softening rough elbows, hands, cuticles, knees or toes. Applicable as moisture essence, massage oil, soothing pack, body lotion, hair essence and foot cream. It is free of Paraben, Mineral Oil and artificial colors.
Ingredient:  Coconut Oil (Cocos Nucifera L.) Extra Virgin, Aqua, Glycerin, Sodium Hyaluronate, Trehalose, Mentha Viridis (Spearmint) Extract, Chondrus Crispus Extract, Tocopheryl Acetate, Carbomer, PEG-40 Hydrogenated Castor Oil, Triethanolamine, Fragrance, Tetrasodium EDTA, Bamboo, Licorice, Vitamin A, Vitamin C, Vitamin E.
Benifits:
Super Moisture.
Whitening.
Lip Care.
Massage.
Relax swollen eyes.
Mask Sheet.
Hair treatment.
After shave.
How to use:
Apply occasionally on the sensitive, dry face and body stimulated by sun.