Description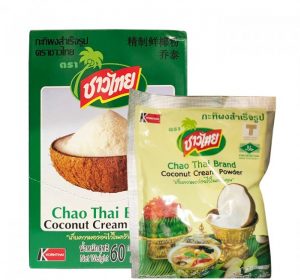 Description
The powder is milky white and has a sweetish flavor. Numerous fats, which are characteristic of coconut, give the product a similar color and rich taste. They have a beneficial and positive effect on human health. A small amount of milk protein (2%) and glucose syrup (11%) were added to milk.
During the production of coconut milk powder, all the beneficial healing properties of coconut pulp remain in powder. Due to these properties, it is famous as an indispensable hypoallergenic cosmetic and food product. Coconut milk powder contains no preservatives, any colorants or flavorings.
The size of the powder grains is from 50 to 150 microns. This allows you to sift it through a sieve. Coconut milk and juice should not be confused. Milk is made from coconut pulp inside the fruit, and the juice is inside the nut.
Coconut pulp has many vitamins (C and group B) and trace elements, among them iron and magnesium. Therefore, the pulp is recommended for nervous exhaustion, vitamin deficiency, as a healing and supporting remedy.
Coconut milk consists of 4% protein, 6% carbohydrates, 27% fat.
Method of application:  In order to quickly and efficiently prepare cream or milk, it is necessary to brew the powder with boiling water or dilute it with warm water (ratio – 3 tbsp. Coconut powder per 250 ml of water). Milk perfectly disperses in water without any lumps.