Description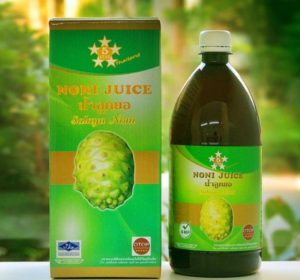 Description
Noni (Morinda citrifolia) – A plant growing in Southeast Asia.
The plant has a sharp cheesy smell, which is why it is called Noni – "cheese fruit."
Noni juice is rich in biologically active substances and is recommended as one of the components of a healthy diet.
Noni juice contains the substances necessary for the proper functioning of the body:
vitamins: C, A, E, B1, B2, B6, B12, folic acid, biotin, niacin, pantothenic acid;
trace elements: iron, molybdenum;
macronutrients: sodium, potassium, calcium, magnesium, phosphorus, sodium chloride;
amino acids, including essential ones – aspartic acid, threonine, serine, glutamic acid, proline, glycine, alanine, cystine, valine, methionine, isoleucine, leucine, tyrosine, phenylalanine, histidine, lysine, arginine, tryptophan.
Natural 100% Noni Juice helps keep the immune system healthy, contains antioxidants that help increase internal energy and improve physical condition. It does not contain genetically modified components, dyes, additives, preservatives and alcohol.
It contributes to the normalization of metabolism, shows a pronounced analgesic effect, stimulates the energy potential of the body, an effective hepatoprotector, a unique antioxidant, increases the overall resistance of the body, strengthens the immune system, shortens treatment time, improves digestion processes, has a pronounced radioprotective effect, positively affects the psychoemotional state, prevents premature aging helps get rid of bad habits.
Method of application: 30-50 ml per day, preferably before meals. Before drinking 100% Noni juice, you need to thoroughly shake the bottle, since natural juice may precipitate.