Description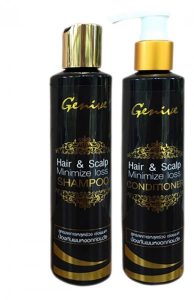 Description
Genive Hair Growth Conditioner improves blood circulation around the hair follicles, making hair grow better and become healthier and stronger. Conditioner will make your hair longer, thicker and shinier. Universal complex for hair care.
The rich composition of the products affects the blood circulation, thereby accelerating the access of nutrients and oxygen to the hair follicles. As a result, the thickness of the hair increases, growth is significantly accelerated, hair stop falling out and, as a result, the volume increases. After 2 weeks of using the conditioner in combination with shampoo, you will notice the first signs of improved hair health. The conditioner can be used as a mask and left on the hair for up to 5 minutes for a better effect.
Method of application: apply a small amount of the product to clean hair, leave for 5 – 10 minutes, then rinse with warm water. For a more effective result, it is recommended to use in conjunction with a black shampoo Genive.