Description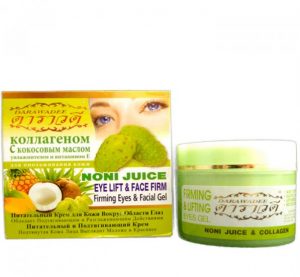 Description
The product is suitable for facial skin care, as well as for delicate skin around the eyes. It does not cause stickiness and oily shine, does not clog pores, it is perfectly absorbed, instantly softening and moisturizing the skin. With regular use, you can get rid of wrinkles, tighten the oval of the face and the contour of the eyelids, keeping the radiance and beauty for a long time!
Natural noni juice is rich in antioxidants, which destroy the free radicals that cause aging, accelerate the production of collagen and elastin by the body – building materials that line the relief from the inside. Also known is the ability of noni to remove toxins and slags, deeply clean, tone, accelerate cell regeneration and renewal. Cosmetics based on this amazing plant effectively fights inflammation, pigment spots and peeling, leaving the tone of the face even and skin – elastic.
Coconut oil contains many fatty acids, perfectly absorbed by the skin, instantly softening and refreshing it. This valuable product solves almost all problems: rejuvenates, improves tone and elasticity, heals acne, eliminates inflammation and irritation, prevents the harmful effects of UV rays.
Collagen is a substance indispensable for youthful skin! Its introduction into the epidermis through cosmetic creams contributes not only to the filling of wrinkles, but also to the activation of the body's own production of collagen, which significantly speeds up the lifting process.
Vitamin E perfectly softens, nourishes and renews cells, stimulating their division and regeneration, eliminates peeling, tightness, microcracks, makes skin velvety and smooth.
Method of Application: Apply to clean skin of the face and the area around the eyes twice a day.