Description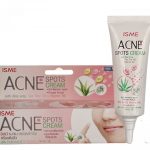 Description
The medical anti-acne cream ISME Acne Spots quickly removes pimples in a short time, prevents the development of only pimples that appear, dries quickly and heals areas of inflammation on the skin. When applied to a pimple, it removes inflammation and prevents the development of a pimple. Therapeutic point cream has antiseptic and bactericidal properties.
Composition:
Chemical composition: Water, Cetearyl alcohol, Butylene glycol, Ceteareth-20, Melaleuca altemifolia (Tea tree) oil, Diisopropyl dimer dilinoleate, PEG-100 stearate, Clyceryl stearate, Carbomer, Triclosan, Methylparaben, Parfurn, Ethylparabent, non-active, Parburn, Ethylparaben, in-the-one, in-the-year, in-the-one, in-the-day, in-the-day, Mflparaben, Parfurn, Ethylparaben, in-the-day, Carbomer, Triclosan, Methylparaben, Parfurn, Ethylparaben, non-essential Pyridoxine HCL, Aloe barbadensis (Aloe vera) leaf juice, DMDM Hydrotoin, Diazolidinyl urea, Disodium EDTA.
Aloe Barbadensis (Aloe-Vera, Aloe Barbadensis Leaf Juice) – often referred to as "The Miracle of the Plant" or "Natural Doctor", harbors many amazing qualities. Aloe juice extract opens and cleanses the pores, moisturizes and tightens the skin, as it is able to easily and deeply penetrate the skin, restore metabolism, stimulate cell regeneration, and also remove inflammation and irritation.
Tea tree oil (Melaleuca Altemifolia) – eliminates pustular and acne, irritation, swelling, itching, eliminates bacterial, viral and parasitic dermatitis, eczema. Eliminates cosmetic skin imperfections (warts, corns, acne), and also promotes the healing of any wound and parasitic lesions on the skin. Tea tree oil is one of the best broad-spectrum antifungal drugs.
Vitamin B6 (Pyridoxine Hcl) is a strong antioxidant. Vitamin B6 plays a vital role in the reproduction of all cells in the body. He is involved in the synthesis of amino acids – the building blocks for the formation of proteins and certain hormones. It plays an important role in the synthesis of hemoglobin, serotonin, aminobutyric acid. Vitamin is necessary for normal functioning of the central and peripheral nervous system. With its deficiency there are convulsions, polyneuritis, dermatitis. Appointed to treat skin diseases.
Triclosan is a known broad-spectrum antibacterial agent, has anti-inflammatory properties, acts on gram-positive and gram-negative flora, as well as fungal microorganisms.
The main properties of the cream ISME Acne Spots:
relieves inflammation on nascent acne, thereby stopping their development;
has an antiseptic effect;
deeply saturates skin cells with nutritious ingredients;
quickly removes pimples and black spots;
vitaminizes the tissue;
guarantees reliable hydration of the skin;
dries purulent inflammation, heals wounds;
is a natural remedy;
stimulates the recovery of the skin;
suitable for frequent use.
Mode of application:
Apply cream spot on acne or pimple on cleansed skin 2 times a day, morning and evening. Does not require rinsing.