Description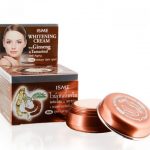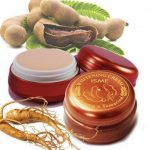 Description
Isme Whitening Cream With Ginseng & Tamarind
The effective clarifying anti-aging cream Isme Whitening Cream With Ginseng & Tamarind contains AHA acids, Ginseng and Tamarind extract, is enriched with vitamin C. The special formula of the cream prevents the process of excessive production of melanin and inhibits its entry to skin cells. It brightens and evens out skin tone, eliminates pigmentation caused by age-related changes or changes in the hormonal background of the body. The cream deeply nourishes and moisturizes the skin, normalizes metabolism and accelerates the process of cell renewal. It stimulates the production of your own collagen and elastin, tightens and strengthens the skin, makes it soft, smooth and supple. Smoothes wrinkles and prevents their appearance. Protects the skin from the harmful effects of ultraviolet rays.
Suitable for any skin type.
Method of application: Apply a small amount of cream on clean, dry skin of the face and massage gently until completely absorbed.
It is recommended to use 2 times a day: morning and evening.