Description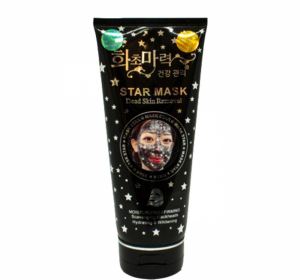 The face mask gel with sparkles and bamboo powder Star Mask Dead Skin Removal incorporates pearlescent particles, a similar texture with many tiny sparkling drops that, when applied, shine, 100% white gold.
A cleansing mask is a film based on bamboo charcoal and witch hazel extracts, aloe vera and purslane for freshness and purity of the skin, renewal of the epidermis and exfoliation of dead epidermal cells. The mask helps to increase and firm the skin, fights wrinkles, moisturizes and tones. The complex of vitamins renews the skin at the cellular level, increasing its elasticity, contributes to a gentle, but at the same time deep cleansing of the pores, renewal of the epidermis and exfoliation of dead skin flakes.
Method of application: Cleanse the face, then apply the mask in an even layer, avoiding the eyes and lips, leave for 15 – 30 minutes, then rinse off gently with a sponge, and apply your usual face cream.
Can be used several times a week.