Description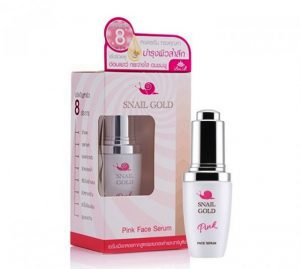 Description
Snail Gold Pink Face Serum face serum from Thai manufacturer Bm.B has anti-inflammatory, anti-bacterial and anti-aging effects. Stimulates skin regeneration and cell renewal, tightens and smoothes the skin, improves skin breathing and nourishment, stimulates blood circulation, removes toxins and slags, fights skin diseases.
Composition:
Natural snail mucus – penetrates deep into the skin, filling the wrinkles on the face and making them less noticeable, promotes cell regeneration, increases collagen production in the tissues.
Golden powder – combats the signs of aging, enhances local immunity, removes toxins from tissues, normalizes the acidity of the skin.
Aloe vera leaf juice – is responsible for optimal skin hydration, gives elasticity and inner strength.
Chamomile extract – eliminates inflammation, relieves swelling and removes the cause of acne, well tones the skin.
Alpha arbutin is a natural substance obtained from the extract of bearberry, indispensable for effective skin whitening, effectively brightens and prevents the formation of pigment spots.
The main properties of facial serum with snail mucus:
makes wrinkles less noticeable;
reduces the number of black spots and enlarged pores;
provide a smoothing effect;
softens and moisturizes tissues;
gently whitens, removes hyperpigmentation;
gives skin the ability to breathe easily;
stimulates superficial blood circulation;
stops the development of many skin diseases;
remarkably tightens sagging skin;
fights against inflammation and scaling on the face;
has a strong antioxidant effect.
Mode of application:
To apply serum on previously cleared skin. To achieve maximum benefit from the use of this concentrated serum with snail mucin from Thailand, it is necessary to daily apply 2-3 drops of the product to the skin of the face and neck with gentle massaging or tapping movements. The procedure is repeated 2 times a day, the serum does not need rinsing. Two minutes later, to get a complete caring complex, apply Bm.B Snail Gold Pink Face Cream.