Description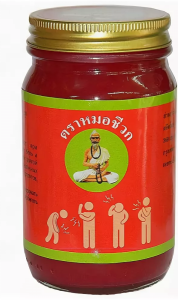 Red Thai balm is intended mainly for older people and people with neglected chronic diseases.
Its unique composition includes more than 100 natural ingredients that grow only in the mountainous parts of Thailand.
Composition:
Chilli pepper oil, borneol, camphor, kayaput oil, carnation buds oil, menthol, mint oil, essential oils of wild lianas and herbs.
Indications for use:
It is used to grind joints and muscles. When pains in the joints, as well as for faster adhesion of bones for fractures. Red Thai balm has an intense effect on muscles and joints, relieves spasms and muscle tension, and has a strong warming effect. If the feet are frozen, the red balsam will warm them in a few minutes and help to avoid colds. Effective with articular tumors.
Thanks to the essential oil of red pepper Chile, which is part of the balm, it is rightly considered the most burning. The warming effect is achieved due to chile red pepper, essential oils and camphor, which expand the thin blood vessels, as a result of which the circulation of blood increases and the healing process is accelerated.
The active ingredients of the balm enhance the mutual action of each other, and the active substances of the buds of the carnation act as a local irritant and antiseptic. Red balsam quickly suppresses pain in the cases of lumbosacral radiculitis, helps to restore cartilage and bone tissue splicing, which in older people coalesces for a very long time.
Effectively removes salts, toxins, quickly reduces inflammation of articular bags. It is used for radiculitis, arthrosis, rheumatism, osteochondrosis. It is indispensable in the treatment of paralysis of limbs or tissue numbness.
Mode of application:
The greatest effect is achieved after a week of application (massage of diseased areas of the body). The balm penetrates deep into the tissues and has a calming effect on the peripheral nervous system, acts as a local analgesic and stimulates the sensation of heat. The balm will relieve inflammation of the joints, cartilage tissues and articular bags in about 20-30 days of regular use.
Recommendations:
Do not ingest. For outdoor use only!
Do not apply balm on purulent wounds and mucous membranes.
Do not use on children under 5 years old.