Description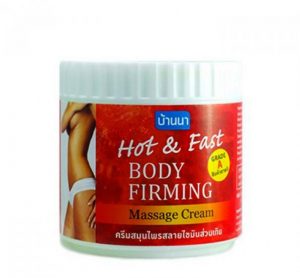 Banna Hot and Fast Body Firming Massage Cream for cellulite. For the correction of problem areas on the body and skin tightening in a short time. The cream is made on the basis of a complex composition of Thai medicinal herbs and plants, including chili, eliminates fat deposits and cellulite.
After using the cream:
fat deposits in problem areas disappear;
the skin is noticeably tightened;
Stretch marks "go away";
weight is reduced;
metabolic processes in the body are triggered;
excess water is removed;
the skin receives fortified nutrition.
The cream has a rejuvenating effect. The ingredients present in the composition stop the aging process.
Made from natural ingredients. The composition includes herbs that reduce the appearance of cellulite. They break down excess fat. Contribute to skin smoothing. Stimulate the natural production of collagen. They start the work of metabolic controlling mechanisms.
As a result of using the cream, the skin becomes silky and pleasant to the touch. The feeling of dryness disappears. Elasticity, elasticity are restored.
Method of application: a small amount of cream is applied to problem areas. Evenly distributed over the surface of the skin. Then rub in with massaging movements until completely absorbed. Its action is accompanied by tingling at the site of application. Redness may occur on the skin within minutes after use.
Attention!
Contraindications to the use of the cream are pregnancy, varicose veins. Do not use if there is a capillary network on the skin and other manifestations of venous insufficiency.