Description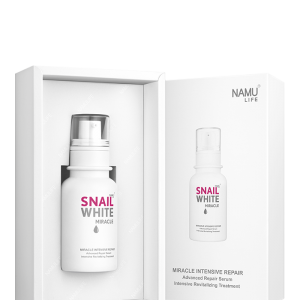 Description
NAMU LIFE SNAILWHITE Miracle Seum Combat all fine lines, wrinkles, dark spots and sagging skin with this innovative intensive repair serum which can miraculously help restore your aging skin within only 7 days. Besides replacing your damaged skin with healthy and youthful-looking complexion, the serum also energizes your skin cells while you slumber, delivering natural glow and radiance to your skin overnight. Enriched with several powerful natural extracts: ALPHA-ARBUTIN, GIGAWHITE, GERTRULINE EXPRESS, LIPOBELLE SOYAGLYCONE, POREAWAY AND SNAILWHITE SECRETION FILTRATE, all which work in synergy to lift, tone pores, as well as smooth out the surface of your skin, the serum can yield noticeable results after the very first application. And with regular use, dead skin cells will be removed, making ways for natural shine and glow of the skin.
Direction
Apply regularly before bedtime. Pump 1-2 drops of SNAILWHITE MIRACLE INTENSIVE REPAIR onto your palms. Rub the serum on both palms thoroughly and smooth onto face and neck before your nightly nourishing creams.
"Repair damaged skin to be a healthy skin"
95% feel more Firming
91% feel more Brightening
89% feel more Reduced dark spots
*Based on testing of 22 women, aged 25-55 years during 22 Jan – 19 Feb 59 by Dermscan Asia Institute.