Description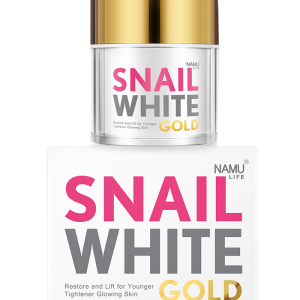 Description
Namu Life Snailwhite Gold – Rebounding sign of aging cream for your youthful and healthy skin. Special with Snail Secretion Filtrate from Helix, the snail species from Spain giving you a youthful look by restoring skin's natural fullness. It enriches with Micro-alga, the Polymer matrix, helping actively firmer and reducing wrinkles. Ceramosides HP, gives a hydrate-replenishment and moisture to skin layer. When apply it on your face regularly, it will be plumped volume fill lines and revolumized skin matrix for brighter looking skin as a girlhood.
With 3 effective of rebounding sign of aging skin
'RESTORE' the youthfulness
'DIMINISH' visible wrinkles
'FULFILL' moisture to skin layer
Direction
Apply only one pump of the cream sparingly onto your face and pat gently to let
the cream absorb into your skin. Use daily both in the morning and at night.
Rebounding sign of aging cream for your youthful and healthy skin