Description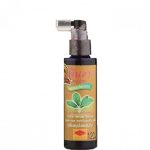 Description
Jinda Extra Herbal Serum Intensive Herbal Hair Loss Serum
Thai serum based on a natural herbal formula to enhance hair growth, to solve the problem of hair loss. Effectively combats hair loss, strengthens the roots, nourishes and moisturizes the scalp, prevents dandruff and itching, stimulates the growth of new hair, making it denser and stronger, improves blood microcirculation in hair follicles, and prevents the appearance of gray hair.
Composition: clitoria terntea flower extract, litsea glutinosa leaf extract, perfume, sodium benzoate, water.
How to use: After using shampoo and conditioner (balm), apply to the hair along the entire length and rub thoroughly into the roots. Do not rinse off the serum. It can be used in the morning or evening before bedtime. When used in the evening, in the morning it is recommended to wash your hair.