Description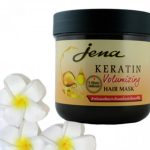 Description
Jena Keratin Volumising is a non-cleansing cream hair mask, the concentrated formula for hair care is enriched with keratin from the natural absorption of deep nutrition from the root to the tip of the hair, restores moisture to dry and damaged hair from chemically straightening curls or the color of hair on the back, soft hair with simple styling. protects hair from the heat of hair dryers, electrical effects on hair, dust, and sunlight in everyday life.
Perfect for hair care, exposed to frequent chemical and thermal influences, with long-lasting fragrance.
Mode of application:
Gently apply the mask to clean, damp hair along its entire length. Leave on for 1 minute. To increase the effect, wrap your head in a damp, warm towel for 5 to 10 minutes. Rinse with clean, warm water.
It can be used regularly.