Description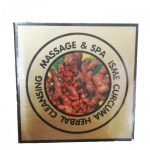 Description
Cleansing and rejuvenating skin massage cream mask based on natural herbal ingredients. Massage cream mask with turmeric and ginger effectively cleanses the skin, eliminates black spots, prevents acne, eliminates acne marks, promotes skin regeneration and regeneration. ISME cream cleanses the skin of the face and body, making it soft, tender and radiant.
Composition:
Turmeric, ginger extract, green tea extract, tropical fruit guava extract.
Mode of application:
Apply the cream on the face or body, massage for 3 – 5 minutes, slightly moistening the fingertips with water as the herbal mask dries. After a few minutes, the massage cream is completely absorbed into the skin, the mask does not require rinsing, you can only get wet at the end of the skin with a damp cloth.